After in a coding frenzy here's a beta for you people to test. It will give you a lot of control over video clips in the slideshows.
Footage from the Blender production Big Buck Bunny.
Get the beta here: DVDslideshow GUI0937 Beta
DVD slideshow GUI 0.9.3.6 must be installed prior to using this beta.
In the installed DVD slideshow GUI folder rename DVDslideshowGUI.exe to DVDslideshowGUI_backup.exe, so you'll have it for later. Now place the unzipped files into the DVD slideshow GUI folder and allow files to be overwritten. Start DSG as you normally would or by clicking that new DVDslideshowGUI.exe file.
New stuff in this beta:
– Avi and avs can now be animated(Ken Burns), overlapped(negative transition durations), overlayed(a transition for adding new slide on top of the old one) and subtitled. A preview image will be visible in the listcontrol/Slidesettings window/Animation window. In other words videos can be handled like slides now whithout the previous limitations.
It has been really difficult and time consuming to add this stuff, but now DSG can be used as a simple NLE when used with Avsp. Check out the tutorial on trimming and cutting with Avsp here!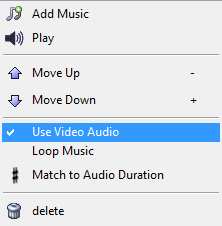 – In the music listcontrol the right click menu has a new function called 'Use Video Audio'. If this is checked music will fade in and out around videoclips in the slideshow and if it is unchecked the music will be played over video clips too and no audio from the videoclips will be heard.
There has been a massive amount of bugfixes and stuff like:
– Blacklevels(george84)
– Zoom in 16:9(m98)
– DVD menu in 16:9 nr. of chapterbuttons(m98)
– Animation Quality(Chris Sherrick)
However this is not an official release – but only a release for people willing to do some beta testing. If you encounter bugs with videos – please pm me a .dsg file with as few slides as possible illustrating the problem.
Stuff like new translations and updating the help file is on my to do list.
And remember donations are always accepted.
Have fun
Tin2tin